Electric Vehicle (EV) Charging Products
Electric Vehicle Charger equipment is a new energy delivery system that is now part of daily lives. We provide project solutions with the lowest total lifecycle cost while meeting every customer's unique requirements. Delivering profitability and sustainability to their business whether a new venture or redevelopment of existing assets. National Energy Equipment trains service providers who are exceptionally skilled and safety oriented to carry out your small to large projects worry free.
Put our expertise and technology to work for you. Industry leadership in safety, operational excellence and corporate responsibility differentiates us from our competition.
EVolving Energy: Gilbarco e-Mobilty Expert Takes on EV Charging Hot Topics :
Gilbarco e-Mobility expert Brian Kuebert sat down on the Fuel Institute's "Carpool Chats" with John Eichberger to tackle those questions.
Where is The Industry Going?
As for the state of the EV market, there are a couple of signs of a healthy outlook. Brian says, "yes, there is a slowdown in all vehicle sales. Electric vehicle sales, however, are slowing less than traditional ICE [internal combustible engine] vehicle sales."Another bright spot is funding. There's still plenty of money on the table to help businesses get their EV plans started. "As it turns out, how you're going to fund and where sites are going to go is largely a paperwork exercise," says Brian.For those who want to start researching their funding options, a helpful tool to locate assistance created by the e-Mobility team can be found
here
.
What about the challenge of overcoming home charging? It's a valid concern when 80% of EV drivers have home chargers, but that doesn't tell the whole story. "I personally don't think it will stay that high," Brian predicts. "When people start analyzing the charging experience, one word that's top of mind for everyone is 'convenience.'" As Brian explains, Gilbarco's years of research shows that people overwhelmingly want the charging experience to mirror the mechanics of the traditional fueling experience.
While home charging is the norm, it isn't an option for many urban dwellings like apartment buildings with no access to parking. When people consider the logistics and cost of installing a home charger themselves, a trip to the local convenience store sounds a lot more, well – convenient."If you look at a company like Gilbarco, you're asking, 'why did we get into e-Mobility,' and it's because we know the C-store space," Brian says. "It's more than offering a charger by itself in some ugly corner. We want to bring it in to the full fueling environment. Give consumers the same experience they have today."
As we broaden the scope of our e-Mobility platform, Brian and his team are offering businesses and fleets more and more options to find the right fit. "Not only do we serve convenience stores, we also serve fleets. Each market has slightly different needs to be met and different use cases that have to be solved for, and the addition of an L2 charger to our platform really, really enables us to go a little bit broader than we did before." One of the inevitable decision points of a site operator will be network chargers or standalone models. "If you're a retailer who, for whatever reason, be it economic or operational, wants to work with an operator network, that's something we can support. But we also support independent operation and that's where I see a really great future opportunity." Each model comes with trade-offs which we explain in a previous blog.
Thanks again to John Eichberger and the Fuels Institute for having us on Carpool Chats.
The current Request for Proposals (RFP) targets ZEV infrastructure projects in public places (including service stations), on-street, multi-unit residential buildings, workplaces and light-duty vehicle fleets.
Type of Infrastructure
Output
Maximum Funding
Level 2 (208 / 240 V) connectors
3.3kW to 19.2kW
Up to 50% of total project costs,
to a maximum of $5,000 per connector*

Fast charger
20kW to 49kW
Up to 50% of total project costs,
to a maximum of $15,000 per charger
Fast charger
50kW to 99Kw
Up to 50% of total project costs,
to a maximum of $50,000 per charger
Fast charger
100 kW and above
Up to 50% of total project costs,
to a maximum of $75,000 per charger
Hydrogen refuelling station
Dispensing at 700 bar minimum
Up to 50% of total project costs,
to a maximum of $1,000,000 per site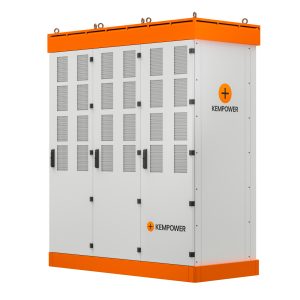 The Kempower Power Unit can be a scalable and modularly upgradable converter cabinet solution for delivering up to 600 kW of total charging power to up to 6 to 8 distributed charging points.

Learn More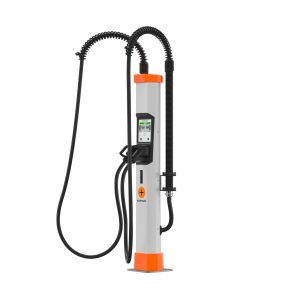 The Kempower Satellite Charging System is an excellent choice not just for EV drivers, but also for charging service operators, fleet operators, and anyone seeking a top-of-the-line fast charging solution.

Learn More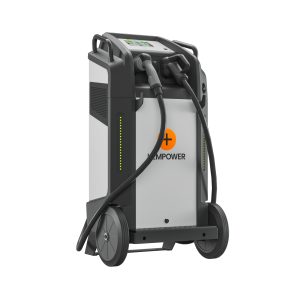 The Kempower Movable Charger is applicable to a broad range of EV charging applications, including short-term charging of EV sedans and vans or long-term (overnight) charging of trucks, buses, speedboats, and off-road commercial machines.

Learn More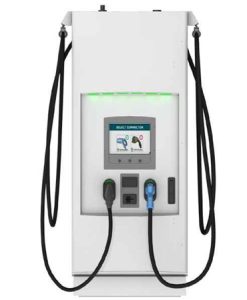 Level 3 DC Fast Chargers bypass slower on-board chargers providing DC power directly to the battery, greatly increasing the charging speed. DC fast charging is essential for high mileage/long distance driving and fleets. The quick turnaround enables drivers to recharge quickly versus many hours from an AC Level 2 charger.

Learn More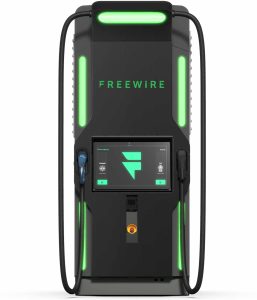 The Boost Charger is an ultrafast and flexible DC fast charger for electric vehicles (EVs). The battery-integrated design enables Boost Charger to easily connect to existing electrical infrastructure without costly construction and complex permitting. Boost Charger has a 160 kWh battery capacity up to with 200 kW output and only 27 kW or less input, making it ready for all EVs including light to heavy duty models.

Learn More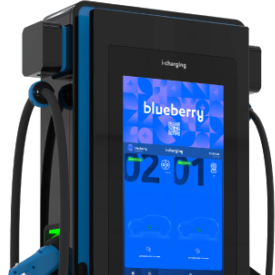 blueberry is a new concept for charging, from 50 kW to 600 kW, a DC charger with output up to 1000 V, it can charge more than one EV simultaneously, sharing the power between its outputs.

Learn More